California Loan Options
When it comes to loan options in California, if you have less than perfect credit your chances may not be so great. Even if you work for one of California's top employers, if your credit is poor, so are your chances at getting a fair shake on a personal loan.
Payday loans can be tempting, but you know better. At a payday loan store you'll have to deal with the hassle of carrying your paperwork across town, battling traffic, and even then the chances of you getting a loan with good rates is slim. And some online payday lenders don't even post contact information. That makes you nervous.
The LoanNow Option
As a California direct lender, based in Orange County, LoanNow provides great California loan options.   We're accredited by the Better Business Bureau and have an A+ rating.   We offer only unsecured loans – and we may be able to approve you even if your credit is less than perfect. LoanNow looks at your overall credit profile, not just your FICO score. We approve many borrowers turned down by banks.  And because we're based online, you can apply for your loan in the privacy of your own home – at your convenience.
Try Group-Signing for Big Savings
Borrowers are saving big money across the state thanks to people who know and love them.  With LoanNow Group-Signing, borrowers can easily ask friends and family members to let us know that they're good for the money.  More pledges translate into more savings – up to 50 percent!   

The Money You Need, When You Need It
When you're facing an urgent financial situation, waiting for a decision from a bank can be unbearable. LoanNow doesn't make you play the waiting game for a decision, or for your money. We process applications in as little as minutes, not weeks, so you can deal with those financial emergencies.
So why wait? Make LoanNow your go-to choice in California for all of your lending needs.
A California Licensed Lender
Being a licensed lender allows us to offer loans that are cheaper, more secure and direct. There are lenders and loan brokers that operate offshore or on tribal territories, and thus don't have to follow US Federal Law regarding consumer protection and state lending regulations. Only licensed lenders are officially regulated by the federal government and follow the rules and regulations of accredited lenders, set forth by the state of California.
Additionally, we are a direct lender, so you'll deal with us from application to repayment. Many sites that advertise loans are so-called "lead generators" or "loan brokers" that sell your private information to other lenders, many of which are not licensed lenders in California, or anywhere. Make sure that your information stays safe – only borrow from direct lenders!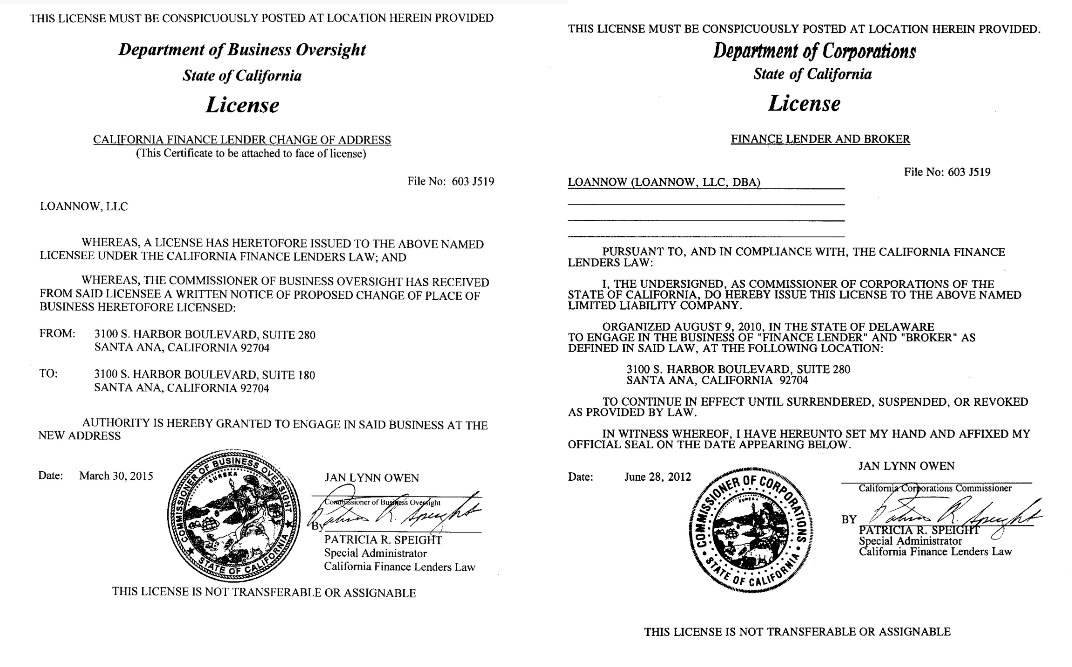 State Regulator Agency:
State of California; Department of Business Oversight 320 West 4th Street; Los Angeles, CA 90013