Same Day Loans Even With Bad Credit
When you're dealing with a financial emergency, you don't have time to wait weeks for a bank loan. And if you have bad credit, a bank loan isn't a realistic option anyway. You may worry that if you seek same day loans, bad credit will be a deal breaker.
But you may be surprised that what you find is your bad credit is not necessarily a barrier to obtaining a loan. And if you're facing eviction from your house or apartment, or if the car you need to get to work needs a new transmission, you don't think much beyond getting the cash you need any way you can get it – legally at least.
However, the initial relief that you feel from finding someone willing to provide you with credit is usually short-lived. The catch is that with these types of same day loans, bad credit means that you are stuck with loan terms that are less than favorable. Before you fall for false promises of same day bad credit loans, take a deep breath, and try LoanNow. We help you deal with financial emergencies without the pitfalls of same day loans for bad credit.
Same Day Loans from Friends and Family Can Strain Relationships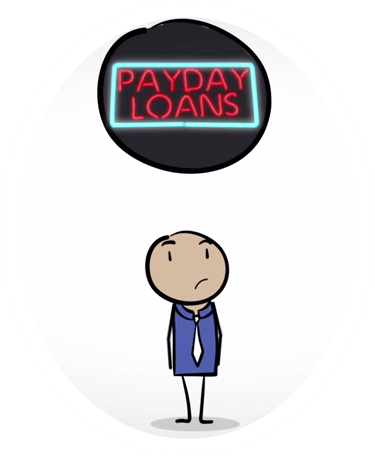 Friends and family represent a time-honored source for same day loans for bad credit. They are often eager to help any way they can, no questions asked. Whether it's asking for 20 dollars to put a few gallons of gas in the car or a much larger sum to deal with a transmission on the fritz, nearly all of us have requested loans from the people we know. However, such loans can strain relationships beyond the breaking point if they go unpaid for long periods.
Pawn Shops: Cash with No Questions Asked – for a Price
Pawn shops have long offered same day loans for bad credit. With pawn shop same day loans, bad credit is no barrier to being approved – as long as you have valuable item to offer as collateral. What do pawn shops consider valuable? Gold and diamond jewelry – check.  Your top of the line latest model iPhone? Check. Your 10 year old computer still running Windows XP? Not so much.
But these same day bad credit loans are also a bad deal for you. Pawn shops only offer only a fraction of what your property is actually worth, often as little as 25 percent. You only have a limited amount of time to repay the loan, with interest, or you'll risk losing that iGadget or shiny bauble for good.
Subprime Loans Place Your Bank Account or Your Car at Risk
If you don't have items that a pawn shop would accept, your options for same day bad credit loans are even more limited. Payday loan stores and auto title lenders often represent the lender of last resort for same day loans for desperate borrowers with limited income, bad credit and few assets.
Payday loan stores require one or more post-dated checks which will be deposited on the indicated date – whether or not your bank balance is sufficient to cover them. If the checks bounce, your bank will charge an NSF fee. If you place a stop payment on the check(s), your bank will charge you a fee for the service. Either way, the lender will likely add a returned check fee onto your loan. If this happens too many times, your bank could close your account – and report the adverse activity to ChexSystems, making it nearly impossible for you to open another account. Ouch.
Car title loans represent another source of same day loans for bad credit. Unlike pawn shops, car title lenders don't demand the keys to your car. Instead, you surrender your car title in exchange for cash. If you pay the loan back, you get your title back, just like the commercials say.  However, if you don't, you could lose your car, even if your car was practically new – and you only borrowed a few hundred bucks.
The LoanNow Alternative
Pawn shop loans, car title loans and payday lenders offering same day bad credit loans are all bad news.  There is no need to risk losing your personal possessions or your checking account with same day bad credit loans. LoanNow understands that waiting weeks for a bank loan response is often not an option. We provide the money you need without the risk of losing your wheels, your personal possessions or your checking account.
The Cash You Need – When You Need It
At LoanNow, we process our online applications within minutes or hours – not weeks. We also never require collateral, even if your credit is less than perfect. We consider your whole financial situation, not just your FICO score. We've approved many borrowers turned down by banks. If you are approved, you'll get your money fast too, via convenient direct deposit into your account. And repayments are structured with manageable monthly installments that work with your budget. LoanNow is the better than a bank loan – check us out today!