Payday Loans Online Same Day
For many borrowers seeking payday loans online, same day or next-day payout represents one of the major appeals. In fact, for brick and mortar payday loans same day payouts represent the primary appeal.  Otherwise the hassle of driving across town and submitting pages of paperwork would hardly be worthwhile.  LoanNow is a better alternative than payday loans. Our installment loans feature a convenient online application and a repayment schedule you can live with.  Why not check us out today?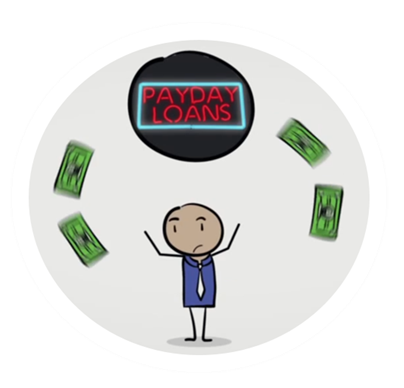 Same Day Payout, Long Term Headache
With payday loans same day or next day payouts come with major strings attached: APRs that often soar well into four digits and repayment periods measured in days.   That's because payday loans are structured so that their repayment dates correspond with your next paycheck or government issued payment.
Unfortunately, many borrowers find that they're unable to pay off their loans in full – which triggers the trap of payday loan rollovers. Each rollover is actually a separate loan with a fresh set of interest charges and administrative fees. After just a few rollovers, many borrowers find that they owe more than their original loans – despite making regular payments! Who needs that?
LoanNow: Money when You Need It – without the Rollover Trap
It's true that payday loans same day or next day payout can seem like a lifeline when you're desperate for cash. But whether you apply online or in a payday loan store, the financial burden of dealing with the payday loan trap negates any short term advantages. But you don't have to give up convenience to get the money you need when you need it. You just need LoanNow.
LoanNow features the convenience of applying online – no driving across town.  We also don't make you wait weeks for a response.  And if your credit isn't perfect, that's not necessarily a deal breaker.  We evaluate your entire financial profile, not just your FICO score. We approve many borrowers turned down by banks.
Once you're approved, LoanNow deposits your funds directly into your bank account so that you can access your cash right away. Repayments are structured in manageable monthly installments that are budget-friendly. LoanNow also says no to rollovers. Instead, we work with borrowers who experience difficulty during the repayment process to get things back on track. Borrowers who maintain consistent on-time payments receive lower APRs on future LoanNow loans. That's a real win-win!
Don't fall for the payday loans online same day or next day trap. Check out LoanNow and get the money you need with repayment terms you can live with.