How To Understand Your Credit Report
You may have heard or read the advice to obtain copies of your credit report every year to monitor your overall financial health.  You are entitled to one free copy of your credit report from each of the three major credit reporting bureaus: Experian, Equifax and TransUnion. You can access your credit reports through annualcreditreport.com or request copies by postal mail. Understanding your credit report and each of its included elements can help you monitor your finances more efficiently.
Basic Information: Each credit report includes basic personal information such as your name, Social Security number and date of birth. In understanding your credit report, it's important to note that this information is not included in calculating your FICO score, but is provided to prospective creditors and lenders to verify your identity.
Trade Lines:
An essential element of understanding your credit report is getting a grip on the trade lines that are included. This section of your credit report features information about current and recently closed accounts, including opening dates, repayment history, credit limits or loan amounts and closing dates, if relevant.
Inquiries:
Your credit report includes a record of all inquiries made for your credit report in the previous two years.  Another key to understanding your credit report is knowing the difference between "voluntary" and "involuntary" inquiries. Voluntary inquiries are also known as "hard" credit pulls, which occur when you apply for credit. One exception is when you request copies of your own credit report, which does not count as a "hard" credit pull. Involuntary inquiries are also called "soft" credit pulls, such as when merchants request copies of your credit report to pre-qualify you for credit offers. Hard credit pulls are included in calculating your FICO score; soft credit pulls are not.
Public Records:
Also important to understanding your credit report is understanding how public records impact your overall credit report and your FICO score.  Public records such as liens, judgments, wage attachments and lawsuits generally remain on your credit report for up to seven years. Bankruptcies may remain on your credit report for up to 10 years after your discharge date.
What's Not in Your Credit Report:
Along with knowing what's in your credit report, an essential element of understanding your credit report is knowing what's NOT included. Many people are surprised to learn that age, race, income, job title, your present employment history or marital status are all omitted from your credit report.  Merchants and lenders often have other means of obtaining this information, and may consider it when making credit granting decisions.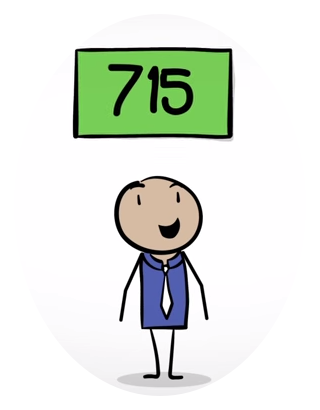 How LoanNow Improves Your Credit:
If you have damaged credit, you may find it difficult to obtain a loan from a credit union or a bank.  LoanNow may be able to help. We look at your entire financial situation, not just your FICO score. LoanNow also provides informative articles that help in understanding your credit report and how to improve your overall financial situation. And LoanNow is actively engaging with major credit reporting agencies with the ultimate goal of reporting positive repayment histories. No payday lender can make that claim!